I have never been a girly girl, and I generally steer clear of anything decorated with hearts. But now I have to make an exception for Minna Parikka's footwear.

Minna Parikka has been designing shoes since she was 15 years old. As soon as she was old enough, she moved from her native Finland to Leicester in England to study shoe design. She worked as a freelance designer in both London and Italy for a couple of years before returning to Helsinki in 2005 to set up her own label. She produced her first collection in 2006 and opened her own store in Helsinki just two years later.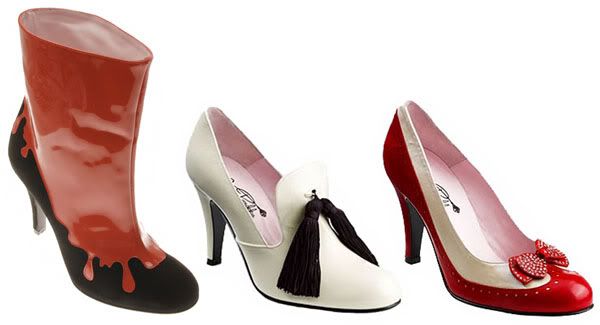 Ms Parikka's design aesthetic is feminine with just enough of a fetish edge to give her shoes a little bite. The quirky detailing and vintage influences make these shoes more sultry than aggressively sexy. Platforms and stilettos are used sparingly – Louis heels and cone heels are more typical, but no less enticing, I think.
With cunning use of color, material, and detailing, even the lowest heels have glamour.
There are several signature design elements that Ms Parikka has been exploring since her first collection. Besides the hearts mentioned above, there are corsetry and lacing…
… wings…
… bows…
… and contrasts: colors, materials, textures…
… and a couple of delightful touches like that pink lining and the rubber soles she uses in deference to the Finnish climate. Her shoes are also designed for maximum comfort – even if you are dancing all night. In 2009, she collaborated with the legendary Crazy Horse Cabaret in Paris, where her shoes were worn by all of the dancers for one of their shows. (From what I've read, the shoes were all they wore!)
Ms Parikka has cited Ferragamo and Vivier as influences on her designs, and you can definitely see both. I think Thea Cadabra must also have provided inspiration. Here are a couple of Ms Cadabra's fabulous designs – the "Maid Pump" on the left caused a sensation when it was first shown in London in 1980….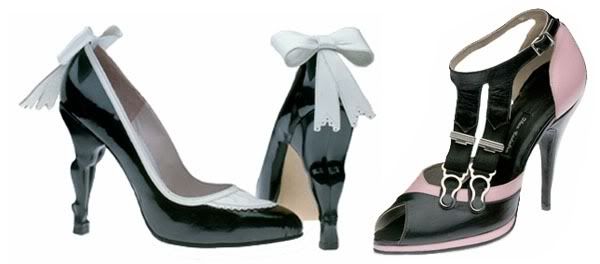 Ms Parikka believes the time she spent freelancing in London has been more of a source of inspiration than designs from her native Finland. Being a major fan of English designers – and having studied shoe design in London myself – I would agree. However, she definitely adds her own distinctive stamp – once you have seen her designs it is easy to recognize her style.
And speaking of stamps, those marvelous Finns have honored Minna Parikka with her own first class postage stamp.
Her
website
has an online mail order store and also lists stockists. I find it unforgivable that there are no retailers in North America, but I hope that will change soon.
Please support independent shoe designers!