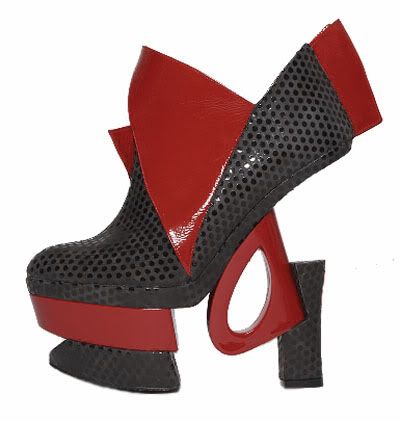 He is a fashion superstar in his native Romania, but Mihai Albu is only just starting to come to the attention of shoe lovers in the US and Western Europe. He is one of many shoe designers who started their careers as architects, but even in that group there are few whose designs are as … well, architectural, as those of Mihai Albu.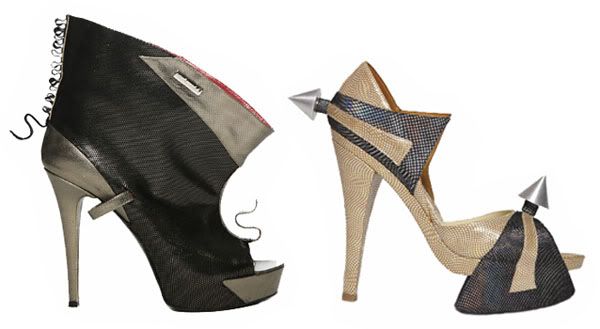 The skyscraper height of his designs earned him a significant amount of press earlier this year as well as the title of The Shoe Architect. It was this shoe in particular that earned him an international spotlight:
The shoe is an enormous 31 cm (12 inches) high, which is amazing; but to focus on height alone does the designer a disservice by detracting from his unique aesthetic. An essential part of this aesthetic is the way these shoes are conceived, as though they are architectural structures to support your feet. Beautiful, fantastical little structures – more like a palace than an office building.
Perhaps this makes more sense when you see them actually supporting a foot…
Mr Albu has mentioned in more than one interview that the Spanish architect Antonin Gaudi is a major source of inspiration. Of course he is. The blend of fantasy and engineering is present in the designs of both men, as is a willful disregard for convention. You don't need to know anything about architecture to see the connection between Gaudi's architectural creations and Mr Albu's shoes.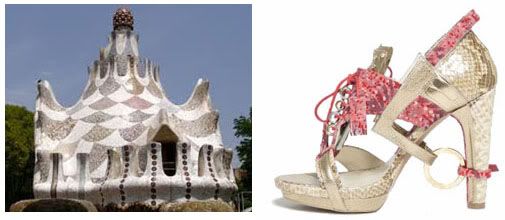 As with architecture, the designs should be viewed from different angles. Audacious structural and design elements are revealed in one angle, hidden in the next. A shoe may appear to be almost conventional from one angle, but extraordinary from another.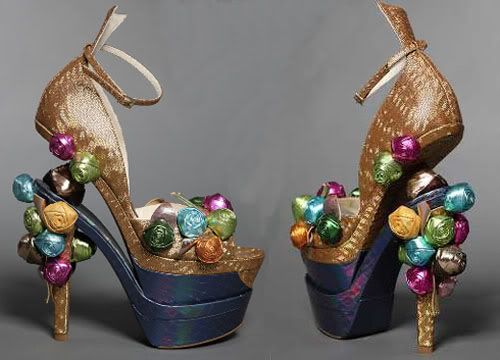 Mr Albu's most recognizable signature elements are his shoe-within-a-shoe designs, and his use of the parts of a shoe as decorative elements – he refers to this as constructed chaos. These designs don't always work; some are beautiful and thoughtful and others seem more like bizarre mutants, but they are always interesting.
Other footwear designers have done this type of deconstruction, but rarely with such wit.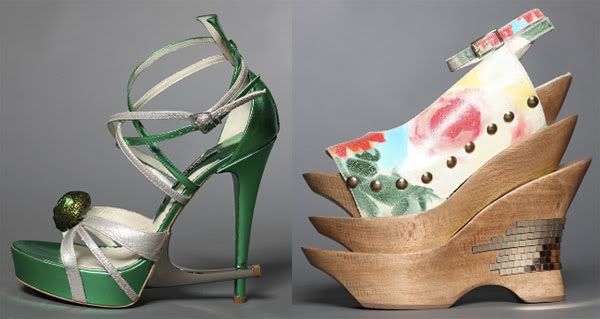 In each collection, Mr Albu includes several designs that have what I consider to be a Carmen Miranda level of exuberance. This is not to say these designs are frivolous; the detailing may be over the top, but it is still clever and well-conceived.
And I have to mention his use of texture. I have a weakness for the use of materials with heavy textures and designs with contrasting textural elements. Clearly, so does Mr Albu.
But ultimately what makes these designs so appealing is the combination of unbridled sensuality with outrageous luxury.
Resistance is futile….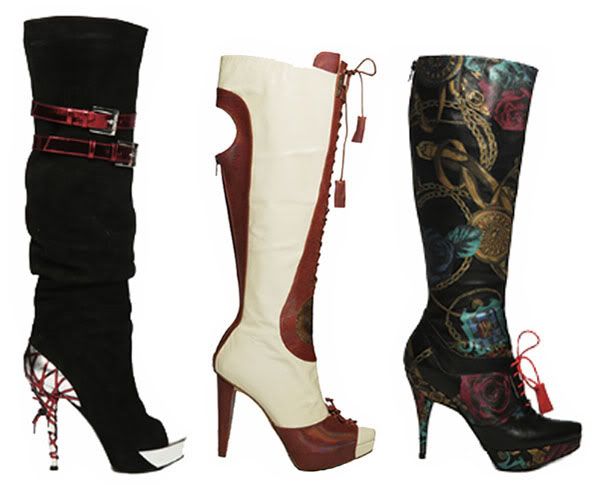 To see more of Mihai Albu's designs, check out his website. I couldn't find any retail sites that sell his footwear (please email me if you find any and I will post the details). If you must have them, you will have to visit his showroom in Bucharest.
Please support independent shoe designers.