Yes, you can make shoes out of stingray leather. Virtually any leather can be used to make footwear, although some are better for the job than others. Footwear requires a particular combination of strength and flexibility that is different from the combination needed for, say, gloves.
Stingray leather, sometimes referred to as shagreen or caviar leather, has everything you need to make a great shoe. It is incredibly durable; it won't fray or crack and is extremely resistant to fire. And of course it's completely waterproof. The pebbly texture and the rich colors that can be achieved through the dyeing and tanning process make it a luscious material to work with.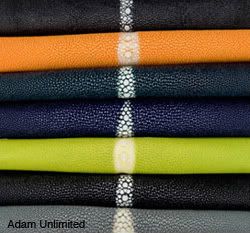 The distinctive white "eye" of the stingray skin is often used as a design feature. This is the remnant of a dorsal fin left after the stingray's evolutionary journey. The eye may appear as a single diamond shape, or may run the length of the skin.
This gorgeous purse from Tropical Leather shows how the eye can be incorporated into the design…
Stingray is listed as an exotic leather, but doesn't have the conservation problems typical of that group. It is not endangered or threatened; the types of stingrays that provide usable skins are abundant, particularly in the Pacific Rim. They are fished primarily as a food source; the skin is a secondary commodity and would be thrown away if it weren't used for leather.
For all its beauty and durability, you'd think there would be more stingray shoes out there. It has never been commonly used for that purpose in the West, but does seem to be slowly slipping into the world of footwear. A number of designers have included a stingray shoe or two in their recent collections, and it is increasingly used as a trim.
Here are some beautiful examples of how to use stingray from YSL…






… a pair of flats from Tory Burch and heels from Elizabeth & James.



Designer Chrissie Morris has a particular affinity for working with stingray leather and has used it in her last few collections to great effect. Contrasting the pearly quality of stingray with velvety suede or buttery calfskin has become a signature design element. These are just four of her many recent designs incorporating stingray…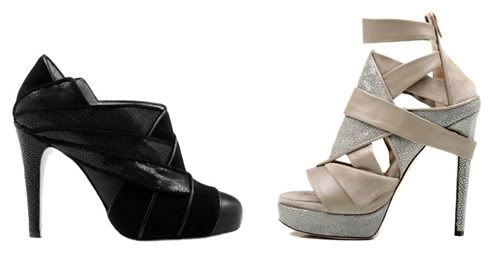 Of course you can get cowboy boots made out of stingray. Is there any creature on earth whose hide hasn't been turned into a pair of cowboy boots? These are from Adam Unlimited and do incorporate the eye very nicely…



I will leave you with this pair of stingray hiking boots, also from Adam Unlimited. I am SO not the hiking type, but even I find these appealing. Stingray seems like a ridiculously glamorous material for a hiking boot, but makes more sense when you consider its incredible strength and resilience. These really are quite marvelous…