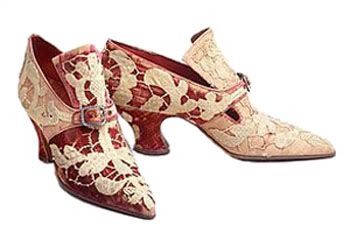 Pietro Yantorny (1874-1936) has an almost mythic status in fashion history, largely due to his own embroidered version of his past. Rumors abounded: mysterious origins in India, a postion as curator of shoes at the Musee Cluny in Paris, shoe trees from the bodies of old Stradivarius violins. None of these things were true, but they created a mystique that drew in wealthy clients from around the world.
The truth is less entertaining, but still remarkable for the time. He was born in Calabria, Italy to parents of Russian origin. Despite being illiterate and having almost no formal education, he learned shoemaking and eventually made his way to Paris where he opened his own shop.
To attract wealthy clients, he put a sign in the window of his studio advertising himself as "The most expensive shoemaker in the world." It didn't take very long for the statement to become truth, and he never needed any further advertising.
One of the first shoe designers to attain celebrity status, he was profiled and interviewed for some of the biggest periodicals of the time. He could command up to 25,000 francs ($5370) for a pair of shoes – an absolute fortune at the time. A particularly detailed pair of shoes could take Yantorny, a perfectionist, up to 3 years to complete. Neither the cost nor the time frame put off wealthy fashionistas: they flocked to his studio and he almost always had a waiting list.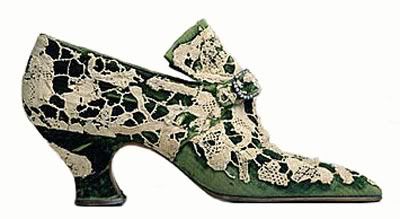 Even by the standards of the time, these shoes were objects of desire: trimmed with lace, heavily beaded, or lavishly embroidered. He often used antique fabrics or detailing, and in one case covered a pair of shoes in thousands of tiny Japanese hummingbird feathers. (Frustratingly, I couldn't find a good image of the hummingbird shoes – we have to use our imagination.) Yantorny's designs owed as much to the past as they did to contemporary fashion, and there was often an element of fantasy.
Yantorny took his relationships with his customers very seriously and he expected that to be reciprocated. If he took someone on as a client, he required a minimum order of 10 pairs of shoes or boots, the shoe trees to match, and at least 60 pairs of stockings or socks. Oh, and the handmade trunk to hold the shoes.
His shoes all have several signature design features: a gracefully arched instep, materials carefully chosen to suit the personality of the customer, and a perfect fit for each person's foot. Yantorny handcarved mahogany lasts for each of his client's feet to ensure the correct fit without requiring numerous trips to his studio.

New York socialite Rita de Acosta Lydig was one of his most loyal customers, and commissioned hundreds of pairs of shoes from him over the course of her life. She preferred dramatic footwear: eastern silhouettes, vintage styles with pointed toes and Louis XV heels. Here are a couple of the shoes she commissioned from Yantorny. I can only imagine what it would be like to have a closet full of shoes like these….
Yantorny's success was certainly based on his skills as both a shoe designer and a shoe maker, but it was his artistic vision that has kept him famous 75 years after his death. He was as much an artist as a designer, and he wanted to create masterpieces worthy of exhibition in galleries.
One of his most well publicized designs is a boot with an extraordinarily high heel. Fetish communities often use the boot as an icon. I can see why, it has a definite sensuality; but that is only a small part of the boot's aesthetic. Yantorny had no intention of selling this as footwear – fetish or otherwise. It was one of many designs he created solely as an art object. As he wrote in his journal, his intent with these fantastical designs was to "show just how far I could push the envelope of shoemaking… to leave something to a museum of the shoe that future generations could admire."
He has undoubtedly succeeded.