Austrian designer Simone Springer and Japanese designer Yuji Mizobuchi met while studying footwear and accessory design at Cordwainers College in London. After graduating they set up their design studio in Austria and named their label Rosa Mosa.
Everything about Rosa Mosa designs is carefully considered and is a product of the founders' unique contributions. Ms Springer has a background in fine art; Mr Mizobuchi studied Buddhist philosophy before studying footwear. Both are committed to the idea that footwear is both fashion and craft, and traditional Austrian craftsmanship is intrinsic to their vision.

All Rosa Mosa footwear is made by Austrian artisans. The combination of traditional local craftsmanship and a modern creative aesthetic results in designs that are subtly unorthodox.
From the beginning Rosa Mosa has played with the concept of the traditional clog, with designs ranging from familiar to innovative.

The Maria range incorporates a wooden clog sole with a woven wool upper. The process for creating the upper is centuries old and Rosa Mosa only employs local weavers who use traditional methods to create the material. This keeps local craftspeople in work in addition to preserving an Austrian folk art.
Rosa Mosa has recently started exploring the process of blueprinting – a traditional dying technique that uses indigo dye to create a rich blue leather. The color is gorgeous and the dying process isn't toxic.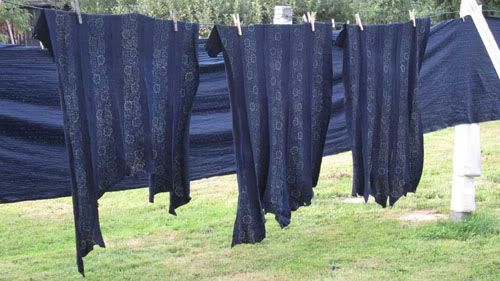 The slightly variegated blue color combined with printing techniques create beautiful results…
In addition to the preservation of traditional Austrian craftsmanship, Rosa Mosa is committed to socially responsible tanning and production methods and keeping the production local. All their footwear is made from vegetable tanned leather, which is much less toxic to tannery workers and the environment. Vegetable tanned leather has a rich, waxy surface that suits their designs.

The materials and the artisanal production methods all give Rosa Mosa footwear a handmade quality and a certain rustic edge that contributes to its appeal.
To find out more about Rosa Mosa footwear, including where to buy them, take a look at their
website
.