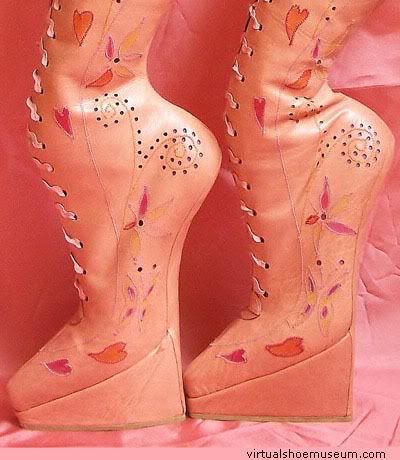 Where do I even start? Rachel de Kler's boots are so amazing that it is difficult to think of words to do them justice – the photos speak for themselves.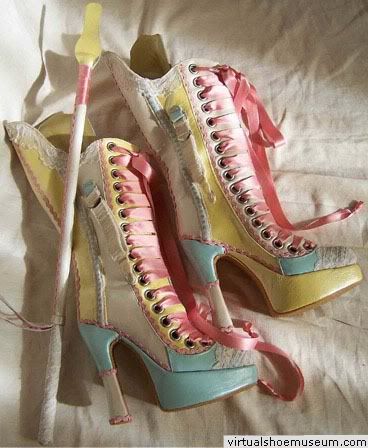 Rachel de Kler is a footwear designer from the Netherlands. Her passion is boots, both as footwear and as art objects. She makes all of her designs by hand – according to her own inspiration or as a bespoke order to a customer's desire.
The detailing is incredible and always beautifully executed.
Both of Ms de Kler's parents were artists, and I think this is evident in her creative vision. This vision is very theatrical, but never seems forced or overworked – it is clearly the result of having been surrounded by art and creativity from birth.
I have included as many images as I could find of the boots on an actual person – that is when they really come to life.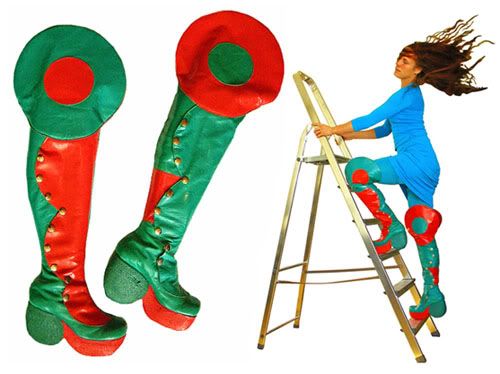 Thigh high boots often belong firmly in the fetish category, however the appeal of Ms de Kler's designs is much more than just sexual. They are undoubtedly sexy, but with a combination of drama and playfulness that makes them more alluring than fetish.
And her boots aren't always about crazy length and heel height; she does design footwear that is a bit closer to the ground, and she is a major of fan of cowboy boots. I admit I have a weakness for them too, and I absolutely love her version made in iridescent green leather…
For more information about Rachel de Kler's boots, visit her
website
. The site is in Dutch, so you might have to use google translator (the result is the usual lexical acid trip, but you can get the gist of things). I have been assured that Ms de Kler speaks English, so you can email her with any specific enquiries.
Many thanks to the Virtual Shoe Museum for their incredible collection of images.
Please support independent shoe designers.