I fully admit to coveting shoes, to having spent more than I should on footwear that I knew I would only wear once or twice; so I am certainly not a pillar of strength when it comes to resisting a beautiful pair of shoes. However, age does seem to be bringing more discernment, and each year a shoe needs to be more special to excite me. But if I lived to be a million years old, I would still be excited by Georgina Goodman's designs.
Georgina Goodman started her career as a fashion stylist in London, but in her 30s she decided she needed to take a different role in creating fashion and enrolled in Cordwainers College to study footwear design. She went on to the Royal College of Art in London, graduating in 2001 with an MA in Womenswear/Footwear. Rather than following the more traditional route of interning with another designer, she opened her own shop in Mayfair in London within a year.
Initially she only made couture footwear – shoes and boots that are made for an individual customer. This type of footwear design is more common today, particularly in London, but at the time it was rare and limited to a few very established and very traditional bespoke shoe companies like John Lobb. Ms Goodman's Mayfair shop bucked tradition by offering made-to-order shoes in highly innovative designs. She quickly gained loyal fans with her distinctive style, and within a few years she had created her first ready to wear collection. Since then the British Fashion Council has nominated her twice for the Accessory Designer of the Year and Manolo Blahnik referred to her as "the future of footwear".
Ms Goodman has developed a recognizable style that is elegant and sculptural and includes signature elements like her cream and black striped soles.
Her designs are suited to women with a very powerful and individualistic sense of style. There is a lot of vintage Ferragamo here in the strong silhouettes and playful use of color. I also see some Biba in the fearless originality and playfulness.

It is rare to find flats and low-heeled shoes that convey the same wow-factor as very high heels, but they crop up in every Georgina Goodman collection.
The quality of this footwear is outstanding. All of the shoes are made in Spain or Italy to ensure exceptional craftsmanship. The detailing is thoughtful and inventive, and handstitching is standard. "Made in Love" is stamped on the sole of every shoe and you really can see it in the designs. I am feeling a particularly large amount of love for these three…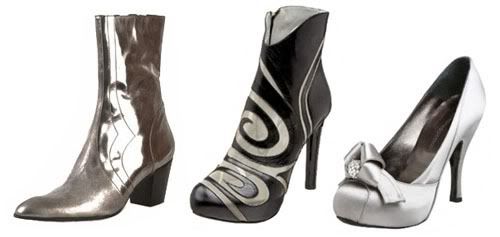 To read more about Georgina Goodman, to see the current collection, and to order her shoes by mail you can visit her
website
. If you happen to be in London, stop in at her flagship store on Old Bond Street. The space is full of smoky mirrors and vintage features that perfectly showcase the footwear. I will leave you with this small selection of Georgina Goodman boots. I know it's spring and I should be thinking about sandals, but these are just too gorgeous to leave out…
Please support independent shoe designers!